MIX™ is a multi-user platform that leverages a catalog of common industry APIs, built-in automation tools and expert support to help you build, manage, and maintain complex API programs at scale.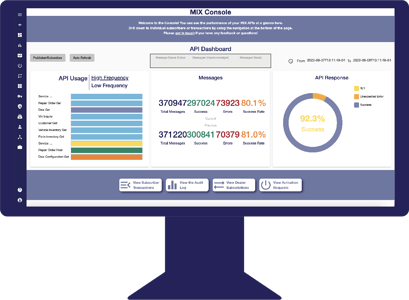 >> Bi-Directional Industry APIs – Motive has developed a set of standardized APIs for common industry use cases to help you save development time
>> Certify™ – a 24/7/365 certification testing toolkit to help you develop to your partners specifications faster
>> Activate™ – an automated workflow tool to streamline the dealer activation process once you've finished building your integration and are ready for it to start transmitting data
>> Secure Data Transmission – We leverage the best technologies and practices to protect your data including oAuth 2.0 and TLS data encryption, stateless infrastructure, and core authorization features
>> Unlimited Integration Support – Our integration experts are here to support you every step of the way, acting as the interface between 3rd Party Dealer Systems and the DMS
Schedule a FREE Consultation

Motive Retail is a leading integrator focused on modernizing the automotive retail experience by enabling real-time data flow between all parties in the ecosystem.
Motive Integrator Suite™ is a complete integration toolbox equipped with everything you need to streamline the development of real-time data flow between any system within the motor vehicle retailing environment.
Our high-performance integration tools are designed to help you optimize business operations, staff efficiency, customer service, and data integrity.